About us
EKOLAMP is a non-profit compliance scheme which ensures joint fulfillment of legal obligations in the field of collection and recycling of end-of-life electrical and electronic equipment to all participants of the compliance scheme, i.e. producers and importers of electrical and electronic equipment.
For this purpose, since 2005, it has been building a wide network of collection points throughout the Czech Republic and provides free of charge collection and recycling services for EEE both to companies and institutions, as well as to ordinary citizens.
History
30. 5. 2005
Foundation of  Ekolamp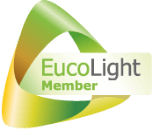 EKOLAMP is a member of a European association EucoLight, which brings together organizations dealing with the collection and recycling of lamps and luminaires in particular.On behalf of its members, EucoLight engages with everything related to the WEEE Directive, legislations and standards affecting the collection and recycling of WEEE lighting.
Members of EucoLight collect and recycle total 80% of lamp waste collected in the 19 countries where it operates. EucoLight is the voice of European compliance scheme for the take-back of electrical and electronic equipment, which specialize in ensuring the collection and recycling of lighting equipment and are working to make the circular economy a reality in the field of lighting equipment.
Cooperation
Cooperation with European compliance schemes
Take-back of EEE through compliance schemes takes place not only here, but also abroad. Thanks to the international base of its founders, EKOLAMP works in a network of partner compliance schemes, where there mutual sharing and exchange of experience takes place, which contributes to the development of the company and the improvement of the services provided.
Other cooperation
Public Lighting Development Company
Educational and informational activities in the field of public lighting
www.srvo.cz
Association of Municipal Services
Exchange of experience of the members, presentation of news and informing in the field of municipal services
www.sdruzeniks.cz
TEREZA, Educational Centre
TEREZA educates over 100,000 children and coolaborates with over 800 schools. They focus on long-term environmental education programs for schools, teachers and parents and help them empower children to enjoy nature.
www.terezanet.cz
Service quality management

EKOLAMP undergoes a statutory audit every year in accordance with Czech legal regulations. As a part of internal controls, the company also conducts a regular internal audit focused mainly on internal processes, risk evaluation and its prevention with appropriate measures. Furthermore, the company is voluntarily certified and audited in accordance with the ČSN EN ISO 9001:2016 and ČSN ISO/EC 27001:2014 standards.